Joomla vs WordPress
Joomla vs WordPress: Which CMS Should You Use?
If you're familiar with web development, you must've heard of WordPress and Joomla — the two most popular content management systems (CMS) in the world.
Deciding which one is the best for your project can be quite challenging as there are many factors to consider. In this article, we will show you the strengths and weaknesses of Joomla vs WordPress to help you make an informed decision.
What is Joomla?
Joomla is a free open source CMS that powers about 2.8% of all websites. Created in 2005, Joomla now enjoys a market share of 4.9% — making it the second most used CMS after WordPress.
Originally, Joomla was designed to create portal-like websites — ones that require some specific features like login forms and memberships. However, the software now can support any type of website without a problem.
Some examples of websites powered by Joomla are Harvard's Graduate School of Arts and Science, MTV Greece, and The Fashion Spot.
What is WordPress?
WordPress was originally created to be a blogging platform. However, thanks to continuous updates and improvements, the platform can now be used to create any type of website.
Its flexibility is mostly what draws a lot of people in. There are tons of themes for various niches, and you can extend the functionality of your site by installing plugins.
What's more, as open-source software, developers can modify the source code to customize and build new features.
While WordPress does take a while to master, you can find many resources like blogs and videos to help you start off. And if you run into any trouble, simply ask for help in forums and communities.
Some examples of WordPress-powered websites are Sony Music, Whitehouse.gov, and PlayStation blog.
Joomla vs WordPress: Which One is Better?
The following sections will discuss how Joomla vs WordPress differ in several aspects: ease of use, appearance and functionality, SEO, support, and security.
1. Ease of Use
First thing first, when it comes to Joomla vs WordPress, let's take a look at the installation process and the admin dashboard of both software.
Hostinger offers a one-click installer for Joomla and WordPress, so it will be ready to use in just a few minutes. Unfortunately, the similarities end there because the user interfaces are very different.
For WordPress, all settings are accessible through the sidebar menu. You can change the appearance, add widgets, install plugins, upload photos, and so on.

Joomla's control panel, on the other hand, is rather complicated. The interface is quite outdated, the options are scattered across two different places (at the top and on the left), and you need to dig around to find some settings.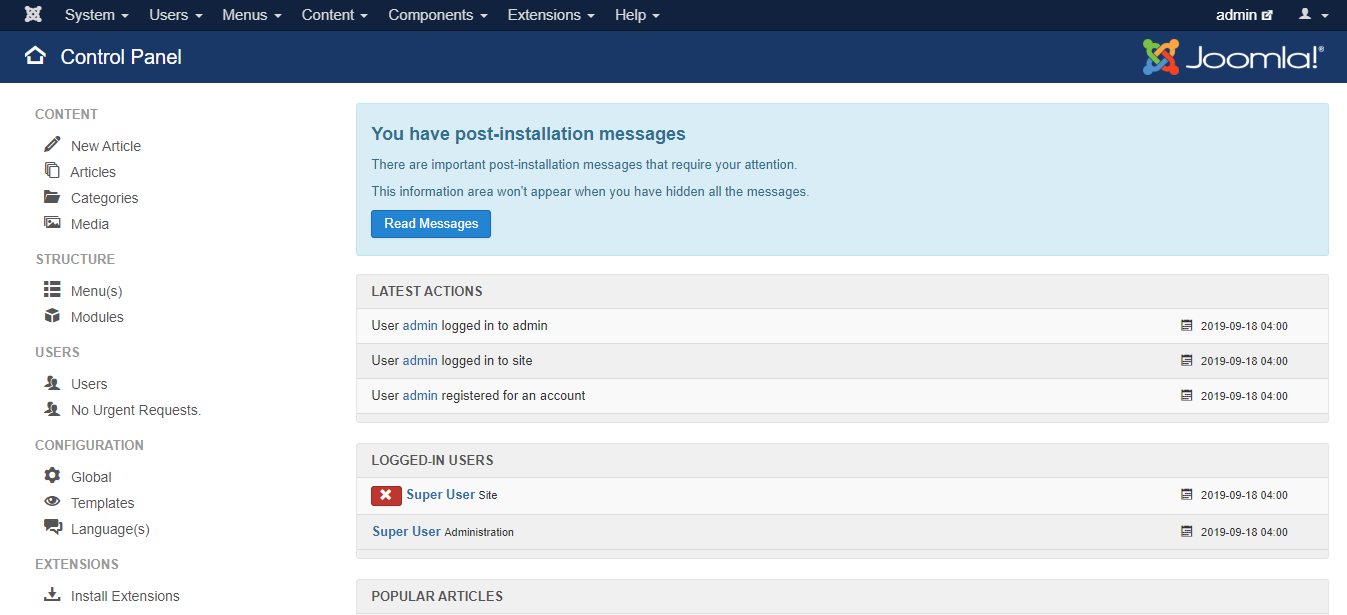 However, we're not saying that creating a website with Joomla is an impossible task. It just takes a more elaborate process compared to WordPress.
Let's say you want to create a new post. With WordPress, you only need to navigate to Post and click Add new. However, in Joomla, you need to create a new category first before you can add a new post. The process might not be quite difficult, but it definitely takes more time and effort.
For that reason, if you want to set up web pages quickly and easily, Joomla might not be a good option for you. It's more popular among website developers who are not afraid to play around with lots of configurations.
The Winner: In this round of Joomla vs WordPress, the latter definitely wins with its beginner-friendly and easy-to-set-up platform.
2. Appearance and Functionality
When it comes to Joomla vs WordPress, there are both similarities and differences regarding its customization and functionality.
To add more features to your site, WordPress can be integrated with plugins while Joomla uses extensions.
WordPress has more than 50,000 free plugins available — each with its own purpose. Some examples include plugins for search engine optimization, additional security, and site analytics.
If that's not good enough for you, there are also thousands of premium plugins. OptinMonster, Defender, and WP Rocket are some of the popular examples.
Joomla only has over 8,000 extensions listed in its official library. However, despite the small number, this platform already equipped itself with many features that otherwise require additional plugins in WordPress.
For instance, you can enable browser caching in Joomla by navigating to System -> Global Configuration -> System and choose Conservative Caching or Progressive Caching under the Cache Settings section.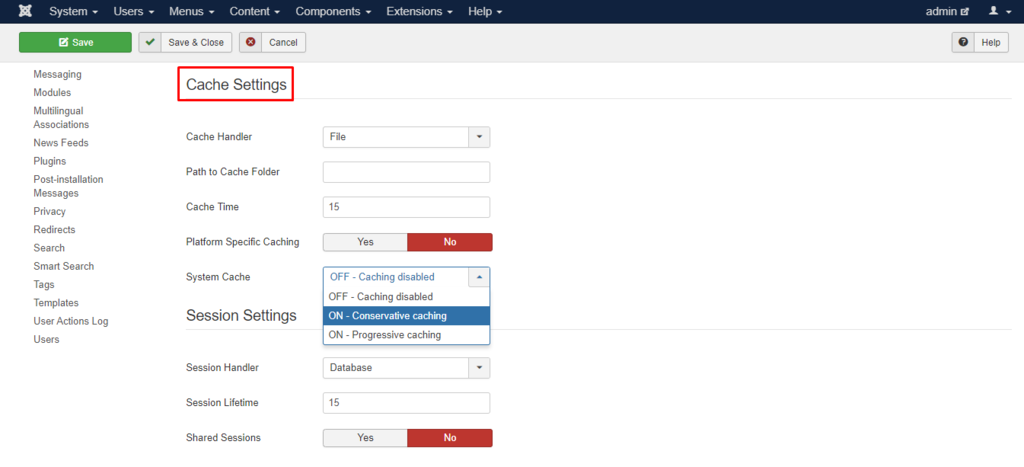 Meanwhile, in WordPress, you need to open your control panel and edit the .htcaccess file.
In terms of installing plugins, WordPress definitely has the upper hand. You just need to open your admin dashboard, search for the desired plugin, click Install and Activate.
On the other hand, installing an extension in Joomla involves more steps. Users need to download the extension from the directory, and then upload it to the installation page. And unlike WordPress, you can't access the extension directory directly from your dashboard.
Now, if we're talking about the appearance of your site, WordPress has themes while Joomla has templates.
WordPress has a collection of 5,000 free themes that you can easily install. What's more, there are also thousands of premium choices provided by third-party developers. All themes are categorized into several different niches like ecommerce, blogs, and education.
Meanwhile, you don't really have any choice with Joomla's two default templates. You need to access third-party sources like ThemeForest and JoomShopper to have more options.
It is important to note that while WordPress has many collections, it only allows you to use one theme at a time. On the contrary, in Joomla, you can use different templates for different pages and menus.
The Winner: Even though Joomla has several advantages over WordPress, the latter stands out with its great selection of customizable plugins and themes.
3. SEO
SEO is a practice that helps your site rank higher in SERPs (Search Engine Result Pages). And to improve your site's SEO, you need some tools to do the job. In this Joomla vs WordPress battle, there are some things to consider!
Joomla comes with decent built-in SEO tools. From the global configuration settings, you can choose to include site names in page titles, add .html suffix to the URL, enable search engine friendly URLs, and so on.
If you want more advanced options, use an extension like EFSEO. The tool helps you to control your metadata from the backend and the frontend.
WordPress also comes with basic SEO settings, including permalinks, meta tags, and image alt text. These options are pretty easy to use and can be accessed through the WordPress editor.
The software also has the ever so popular Yoast SEO — a well-known premium plugin that scans your articles and comes up with recommendations to improve their ranking. Some examples include internal linking suggestions, readability checks, and keyword optimization.
The Winner: When it comes to Joomla vs WordPress, both platforms have decent SEO tools right out of the box. However, if we compare the additional plugins needed for advanced options, Yoast SEO is definitely the winner. As such, this round goes to WordPress.
4. Support
When it comes to Joomla vs WordPress, they have similar support options, as both are community-based platforms. There are countless blogs, online forums, and tutorials that are dedicated to these CMSs.
HostingWiki, for example. It provides tutorials on how to set up, maintain, and improve the two platforms. If you need more, both CMSs also provide official documentation which can be found on their websites.
If you don't want to do all the work, you can always find and hire WordPress developers to set up a website for you. But, if you're using Joomla, finding a developer for this platform might be quite challenging since their numbers are far fewer.
As of right now, Joomla only has about 400 developers contributing to its development, while WordPress has a bigger number, proven by its WordCamps that are attended by thousands of people worldwide.
The Winner: We think that it's fair to say that there's no winner in this round of Joomla vs WordPress. Both CMS have community support and provide comprehensive tutorials for their users.
5. Security
As a site owner, security should be one of your top priorities. Having a secure CMS is one of the measures you can take, but that alone is proven to be unreliable. So, who is the security winner when it comes to Joomla vs WordPress?
A report states that 74% of WordPress sites were hacked in the third quarter of 2016. Meanwhile, only 17% of Joomla's websites were infected. These accidents are mostly caused by improper security maintenance.
However, don't let that scare you. All websites running on WordPress version 3.7 and above will get automatic maintenance and security updates. Plus, there are hundreds of plugins to strengthen your sites' security like BulletProof Security and VaultPress.
For Joomla, the software comes with a built-in option to enable SSL. After installing the SSL certificate on your server, navigate to System -> Global Configuration -> Server tab and choose Entire Site for the Force HTTPS option.
This option undoubtedly gives Joomla an edge over WordPress since the latter requires you to edit some core files or use a plugin.
To make your site even safer, you can follow the official security checklist and install additional extensions.
The Winner: As WordPress gets automatic updates and has plenty of extra security plugins, it is safe to say that WordPress is the winner in this round!
Conclusion
Both Joomla and WordPress have their own pros and cons. As such, there are a few things you should consider in this Joomla vs WordPress war before settling down with one:
Ease of Use — WordPress is a beginner-friendly platform with an intuitive user interface. Meanwhile, Joomla's dashboard might be quite confusing for first-timers but offers more built-in features.
Appearance and Functionality — even with limited options, Joomla allows multiple templates to be used at the same time. On the other hand, WordPress offers thousands of customizable plugins and themes.
SEO — both CMSs have basic SEO tools that can be extended with the help of plugins and extensions.
Support — Joomla and WordPress have big community support and provide comprehensive documentation.
Security — Joomla allows you to easily enable SSL on your site. On the other hand, WordPress has an automatic maintenance system and security updates.
There you have it!  A complete breakdown and comparison of Joomla vs WordPress. However, instead of declaring a winner, we would like to say that choosing the perfect CMS really depends on your needs as a user.
If you're a beginner with no technical knowledge, then WordPress is your best bet. The dashboard is easy to use, and you can easily search for plugins and themes from its official library.
Joomla can be a great option for web developers. It offers more flexibility and functionalities right out of the box, thus allowing developers to get creative with their websites.
Who do you think wins the Joomla vs WordPress battle? Let us know in the comments below.