Joomla Tutorial for Beginners
Joomla is a best open-source Content Management System (CMS) that anyone can use to start a powerful website with security . In this Joomla tutorial, we will includes ,how to use Joomla! 3.9.12. Everything will be covered, from installation to creating a  fresh website for your business.
Getting to Know Joomla!
Joomla is the second most popular CMS after WordPress. It can be used to build any website , be it for a personal project, blog  or business. This is due to the vast amount of extensions available online for joomla open source .
Whether it's for site management or core enhancements, the extensions allow you to develop your site further.
Component – mini-applications that are responsible for the site's main elements, content, and menu items.
Modules – allows you to add widgets around the component, such as a footer or a "Recent added Articles" box on the sidebar.
Plugins – provides additional functions such as adding a music player, or social media share buttons to enhance your website's performance.
Templates – a set of design and layout to make your website aesthetically pleasing and user-friendly.
Languages – offers translation packs for creating a multi-language site.
You can find them on the official Joomla! Directory and other third-party sources, such as Joomlart and Joomdev.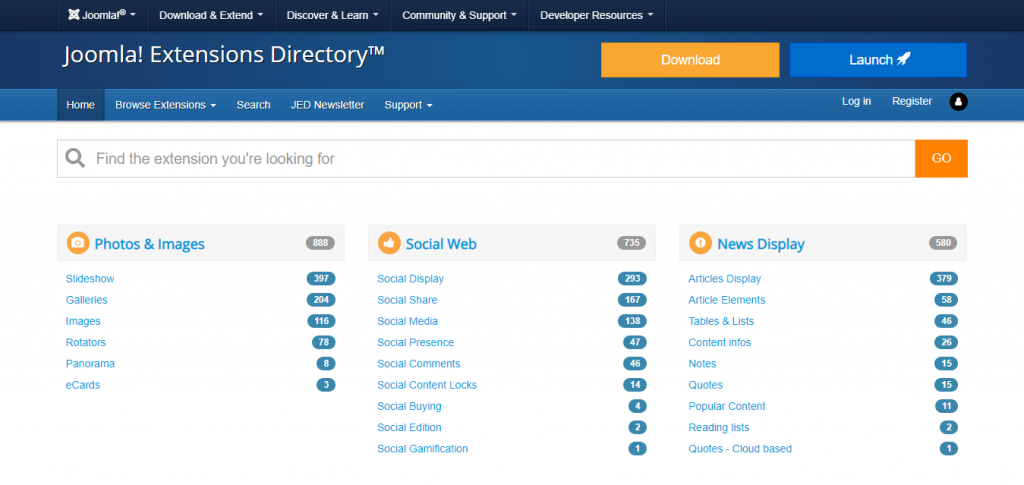 With this flexibility, Joomla has been used by many famous brands and organizations. Including Harvard University, Linux.com, Guggenheim, MTV Greece, and the UNRIC (United Nations Regional Information Centre for Western Europe).
This platform may indeed have a steeper learning curve compared to other CMS. However, there's a lot of Joomla tutorials, videos, forums, and documentation that are ready to help you.
1. Installing Joomla
Setting up Joomla can be done in just a few clicks using hosting auto-installer:
Login to your  hPanel of hosting .
Scroll down to the Website section, and select Auto Installer.
Search for "Joomla!" and click on its icon.
Enter your website details in the installation wizard, and click Install.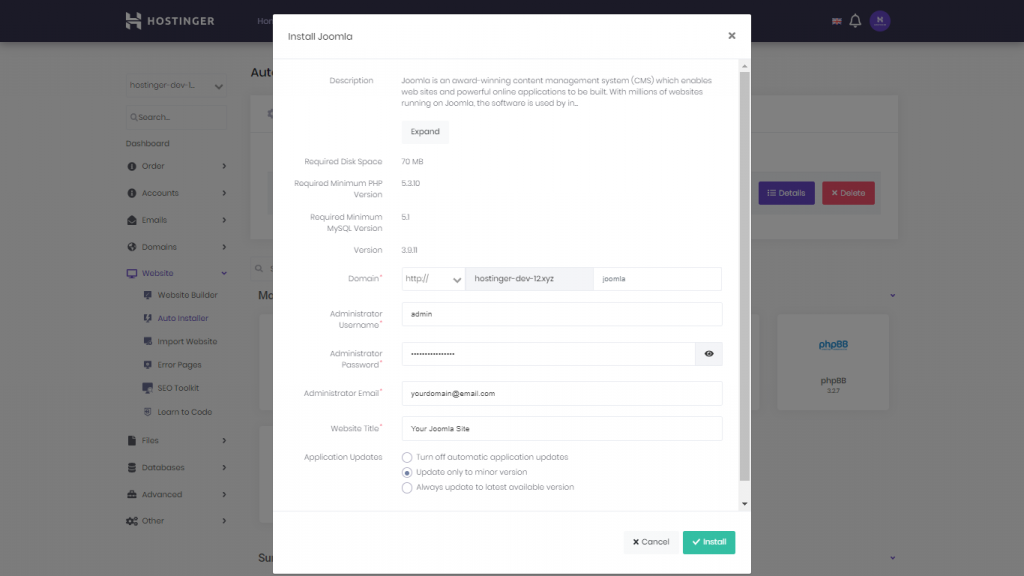 Once Joomla is installed, the required database has been created and configured accordingly. You can now login to your Joomla control panel and start creating your site.
Access the Joomla control panel by adding "/administrator" at the end of your site URL (e.g., www.mydomainname.com/administrator).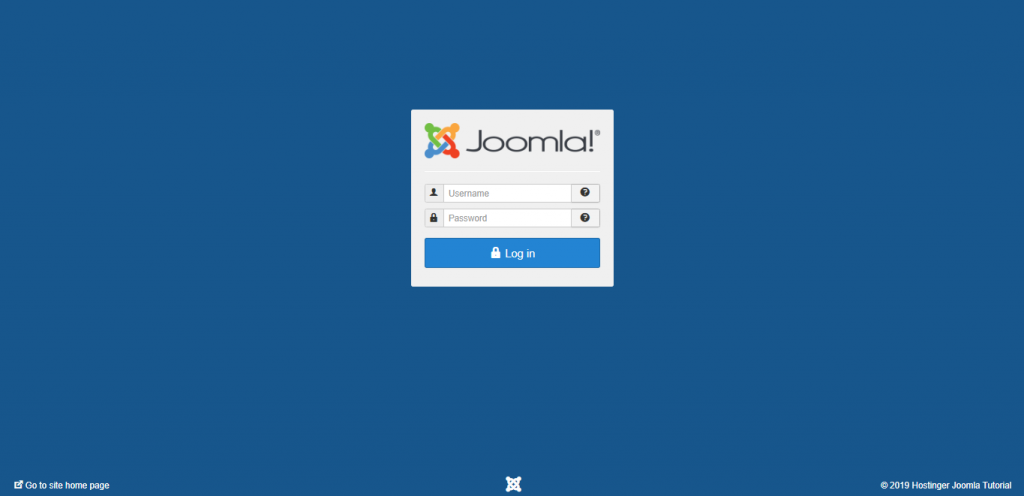 2. Creating a Website With Joomla
Through Joomla's Control Panel, you're given a lot of options to build and manage your website:
Adding Articles
On the admin page, tap Content -> Articles -> Add New Article.

Add your content to the WYSIWYG editor.
When you're all set, pick the status of your article – Published, Unpublished, or Archived.
 Press the Save button, or select Save & Close to be directed to the Articles page.

Once the post is created, it'll appear in the Latest Articles page of your website.
Creating Categories
You can also assign a category to your content. However, make sure to create the categorizations before assigning it:
Click Content -> Categories -> Add New Category on the top-bar menu.
Fill in the Title, Description, and Alias (optional).
Select Save or Save & Close to create your new category.

Adding Featured Articles
Navigate to Content -> Articles, and you'll see the list of articles on your website.
Click on the "star icon" next to the desired article to make it featured.

Creating Menus
You can display a featured articles page, and other dedicated pages on your website by creating menus:
Head over to the Menus -> Main Menu ->  Add New Menu Item option.

Type a title for your menu item, e.g., "Featured Articles."
Define the Menu Item Type. For this Joomla tutorial, we'll choose Articles -> Featured Articles.
Select Which Menu the item will be displayed in.
Press the Save or Save & Close button.

Now Featured Articles will be accessible from the main menu on your Joomla website.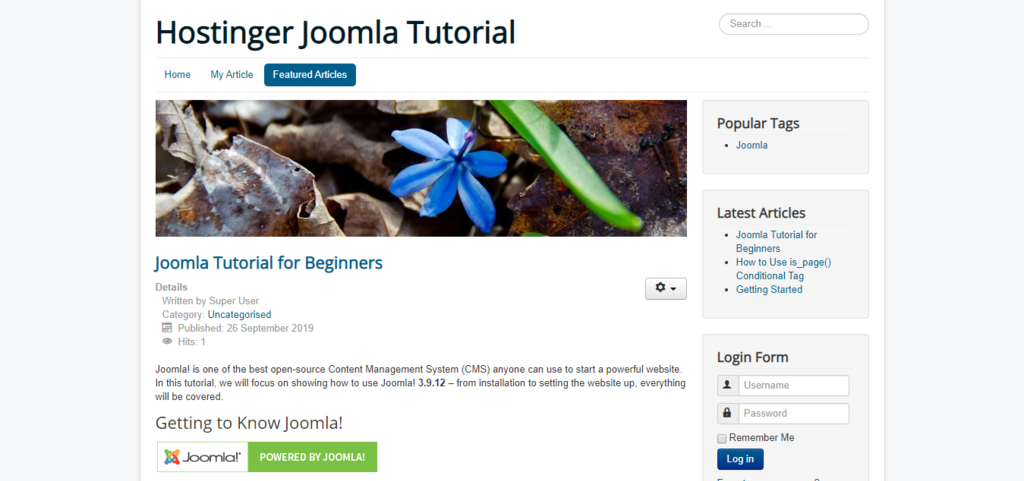 Creating Components
Joomla has several built-in components that allow you to create specific page types. In this Joomla tutorial, we'll show you how to create News Feeds, Contact Us page, and Banners. You can access them through the Components section on the top menu of your Joomla Control Panel.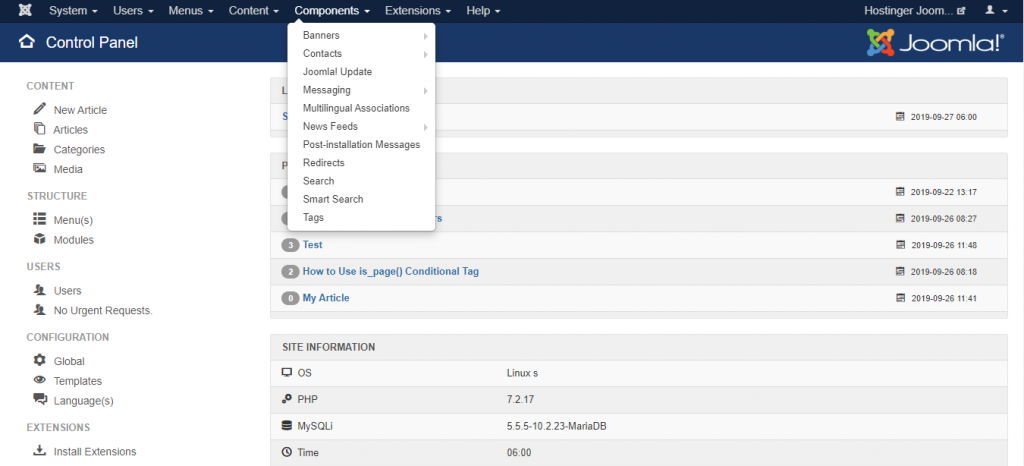 Here are the most widely used components:
News Feeds
If you want your readers to be updated with newly published content, you can create a news feed:
Navigate to Components -> News Feeds -> Feeds.
Click New, and fill in the required details – Title, Link of the content you want to display, and the Category.
Press the Save button.

Contact Us Page
You can also receive feedback and build visitors' engagement by creating a Contact Us page.
Go to Components -> Contacts.
Tap on the New button, and fill in your contact details. Use the Miscellaneous Information tab if you want to add a description.
Save the page when you're done.

Create a Menu for the Contact Us page, to make the contact form viewable and accessible from your main website.
Banners
The Banners component can be used to manage images or HTML banners. Here's how to create a banner:
Click on Components -> Banners -> Banners.
Press New on the top-left and enter a name for your banner.
Upload your image and fill in the optional details, such as the dimension, alt text, and description.
Once you are done, press the Save & Close button.

To publish a new module and display your new banner, go to Extensions -> Modules.
Press the New button.
A list of modules will appear — select Banners.
Set the Title and Position for the module.
Save your configuration.

As an example, we have added a featured image banner to the footer of our "Hostinger Joomla Tutorial" Website.
That should be it. Now you can tweak your website content with Joomla's components.
3. Installing Joomla Extensions
You can manage all your extensions through the Extensions -> Manage section. Whether it's installing a new extension, updating, or disabling existing ones, the process is straightforward.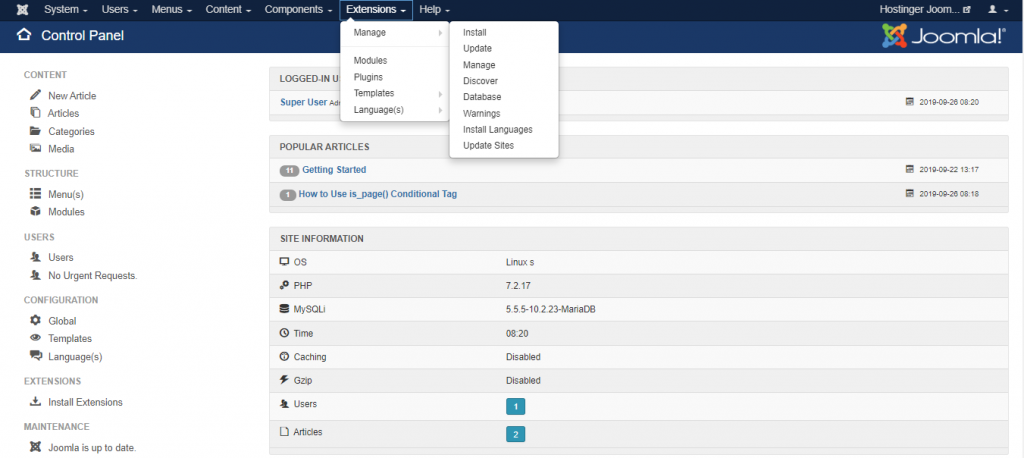 To manually install the extensions, follow these steps:
Download the .zip package from the Joomla extensions directory.
Go to Extensions -> Manage -> Install section.
Click on the Upload Package File tab.
Choose the file and upload the .zip archive.

Enable the Install from Web tab to allow you to search and install any Joomla! extensions without leaving the administrator panel.
Here are a few must-have extensions for your Joomla website:
4. Installing Joomla Templates
Choosing the right template and design is crucial to the function and look of your website. Joomla has plenty of free and paid templates available online, though not as much as WordPress or Drupal. The installation process of templates is almost identical as installing extensions:
Download the templates you want from any third party sources like Joomlart or Joomdev.
Do the same uploading and installing process as extensions through the Extensions -> Manage -> Install menu.
Once the file is uploaded, navigate to Extensions -> Templates -> Styles section.
Tap the "star icon" next to the template you want to enable.

Clicking the star icon will activate the template as your default user interface, but you can apply different templates for your front-end and back-end look.
5. Backing Up Joomla
Most hosting providers offer auto backup for your site's files and databases regardless of what CMS you use. Hostinger's Business hosting plan automatically does the daily back-up for you.
Access and download these backups through the Backups section on your hPanel.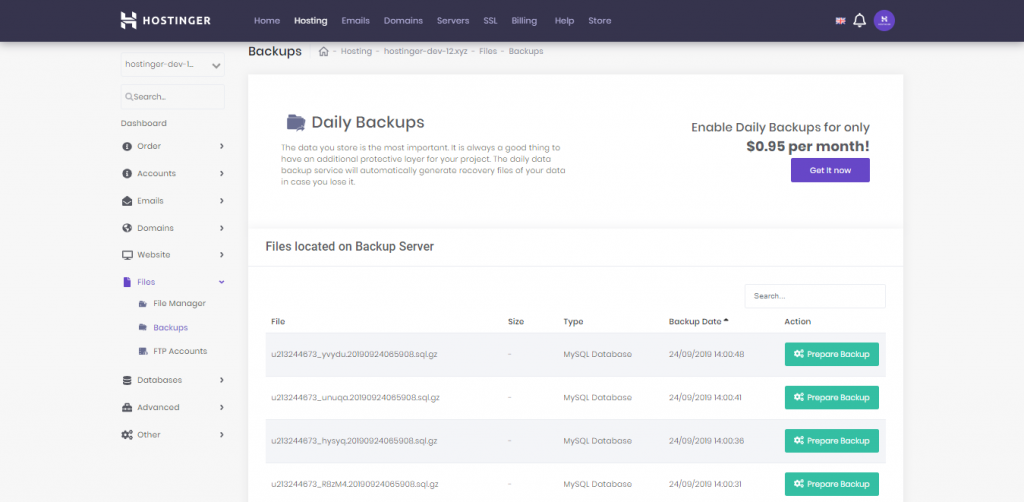 However, you can also backup up your Joomla files and databases on your own.
Backing Up Joomla Manually
To create a backup copy, you need to archive all the Joomla files and the database.
This part of the Joomla tutorial will explain how to archive your files by creating a .zip file using Hostinger's File Manager tool.
Access the File Manager through your hPanel
Open your main Joomla installation folder and select all the files.
Press the Compress button.

Select the .zip file once it has been created, then click the Download button at the top menu.
Alternatively, you can use an FTP client. The process is straightforward – all you need to do is navigate to the Joomla folder, select all files and press the Download button.
In Hostinger, you can create a database backup directly through the MySQL Databases menu instead of using the phpMyAdmin tool.
Press the MySQL Databases icon on your CPanel
Click on the drop-down "arrow" button next to the currently used Joomla! Database, and select the Backup option.


Find out which database Joomla is using by accessing the configuration.php file in the public_html folder.

Once you're redirected to the Backups page, click the Prepare Backup button.
Tap Download to get the .sql file.

Using Akeeba to Backup Joomla
Akeeba backup is probably the most popular Joomla extension. However, it's not in the official directory, so you will need to download the extension from the official Akeeba website. Follow the Joomla tutorial below to set it up:
Navigate to Extensions -> Install to upload and install Akeeba via the Upload Package File tab.
Go to Components -> Akeeba Backup.
Click the Configuration -> Configuration Wizard to activate a benchmarking wizard that sets up optimal backup performance for your site.

Once the benchmarking process is done, you'll be given three options:

Backup Now – backup your Joomla website straight away.
Schedule Automatic Backups – set the time and date to automate your backups.
Configuration – change the settings that the benchmarking wizard has set up.
Once the backup is generated, we recommend you to keep a local copy of your backup. Click on Manage Backups, and select the Download button to save it on your computer.
6. Updating Joomla
Keeping Joomla up to date is very important. Every time you log in, Joomla will automatically run a check to see if any new versions are available.
You will see a new notification on the top of your control panel if there is a new version present in the official repository. It'll contain the name of the update along with an Update Now button.
Click on the button to be taken to the Joomla update page. You'll see the information regarding your current and new versions of Joomla. Tap Install to start the installation.
It's recommended to create a backup before you begin the update.
7. Speeding Up Joomla
Fast website loading speed is a vital part of good user experience. This Joomla tutorial will show you two ways to improve the performance and loading speed of your Joomla website.
Enabling Gzip Compression
Compression helps you decrease the total size of your website that visitors have to download. Therefore, it takes less time for a website to load.
Go to System -> Global Configuration from your Joomla admin dashboard.
Click on the Server tab.
Find the Gzip Page Compression option under Server Settings, and select Yes.
Save your changes.

Gzip compression is now enabled for your Joomla website.
Activating the Default Joomla Cache
By enabling cache, you'll store your website content that is pulled from a database on the server. So, your website's response time will be much faster whenever someone visits your site.
To enable caching for your Joomla website, follow this tutorial:
Go back to the same Global Configuration section and select the System tab
Under the Cache Settings, choose which Cache Handler you want to use. On most shared hosting providers, the File cache handler should be applied.
Leave Path to Cache Folder empty, unless you want to save cache files in a custom directory.
Cache Time determines how long the cached content stays the same before updating – the default value is 15 minutes.

If you update your website frequently, then you can shorten the cache time value. If you rarely update the website, then you can increase it.

Leave Platform Specific Caching as No, unless you provide different HTML content on mobile devices.
Turn on System Cache by selecting one of the two options available.

Select the Conservative Caching option if you have an extremely large website. Otherwise, choose the default Progressive Caching option that is best suited for most Joomla sites.

Save your changes.
Using Cache Plugins
Another way to enable caching is by turning on the cache plugin.
Go to Extensions -> Plugins.
Find the Page Cache plugin through the search field.
Click the button in the Status column to enable it.
The button beside the plugin should appear with a green checkmark.

Now your website loading speed should improve.
Conclusion
Joomla is an excellent open-source Content Management System (CMS). You can use it to build any kind of great websites.
It offers vast numbers of extensions that allow you to enhance your site's functionality and features. You can add as many components, modules, plugins, templates, and languages as you need to your site.
Worry no more if you have no idea on how to use the platform, this Joomla tutorial is packed with a beginner-friendly guide on:
Installing Joomla on your hPanel
Starting your Joomla website
Enhancing your site's feature with the extensions
Configuring your site's look with templates
Backing up your site data
Updating your Joomla version, and
Speeding up your Joomla site
We believe you can quickly build your dream website through this Joomla tutorial. Good luck!